Meet the people who make it a reality: Carmen Danner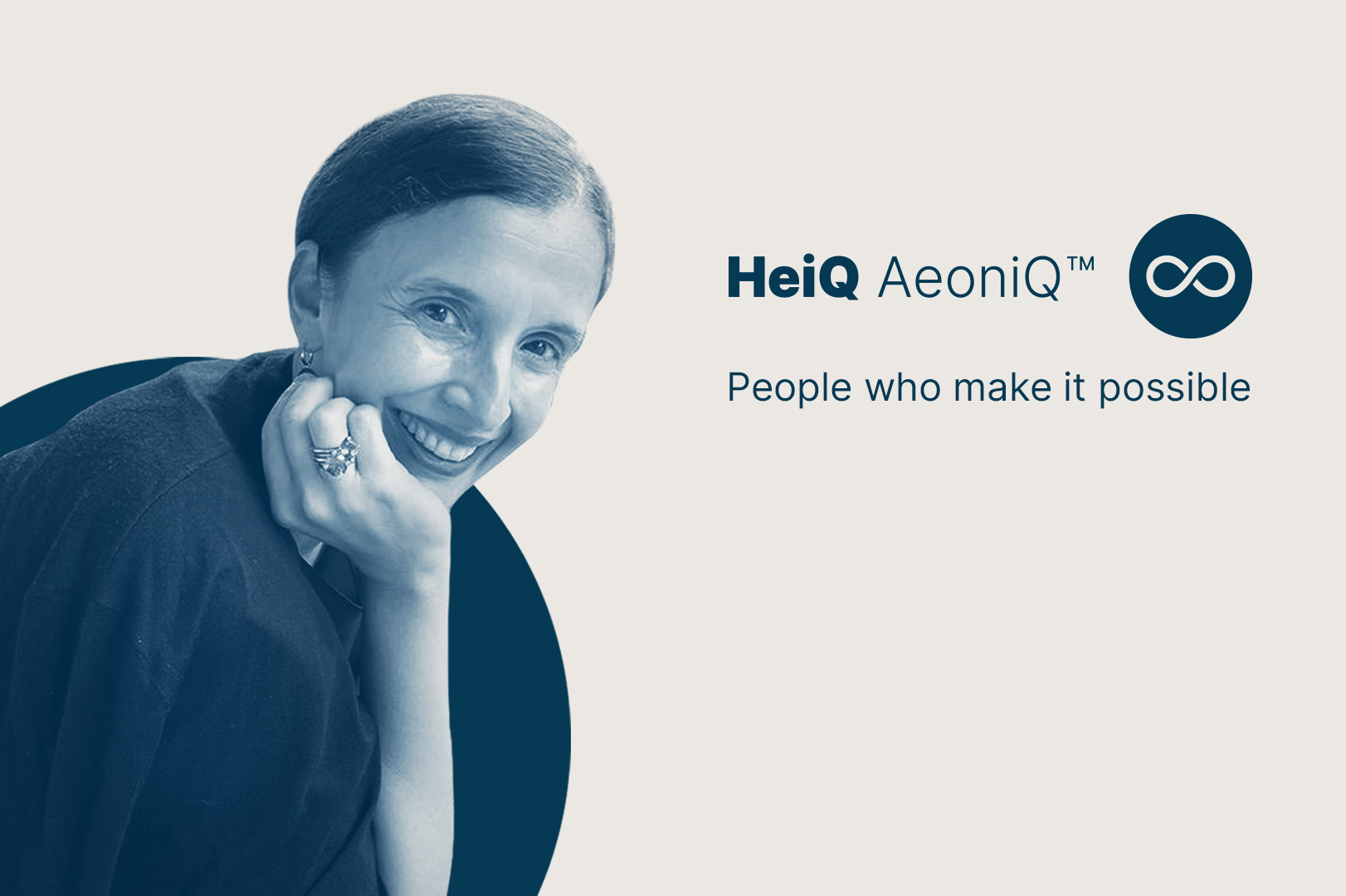 "Textile must reinvent itself. HeiQ AeoniQ™ will change fashion for good."
What is your daily role, what motivates you to contribute to this project and what makes you most excited about HeiQ AeoniQ™?
Leading and managing the project, taking care of the brand collaborations and ensuring the R&D partner acquisition for some fields. By implementing the strategy and breaking it down into operational goals I take care of the alignment with all internal and external stakeholders, checking in on milestones and defining priorities. I also act as the sparring partner for the Marketing team to visualize our groundbreaking ingredient brand and technology. In short, my contribution is connecting the dots and holding the fort together, from our headquarters in Zürich.
Regarding motivation, being part of the fashion industry for so long I am thrilled to work towards a new textile future – textile 2.0 – where brands work together, commit to sustainable goals and the end consumer is aware of their impact. Fashion and Textile must reinvent itself. The old textile world as we know it will soon no longer exist. 
Brands need to network with new partners and adapt their vision to a new reality. A brand message nowadays needs to contain more than the color and style definition for the next season. Brands need to be authentic and transparent by transmitting a sharp vision of how they deal with the priority topics of society such as politics, ethical standards, diversity, and inclusion, as well as the challenges the industry now faces. And this includes the sustainability gap, the unnecessary textile waste, or the changing desires of Gen Z.
Looking at this from an organizational point of view and coming from somehow overstructured companies I am excited about how fast you can go with a visionary and relentless leader, a handful of skilled people with good manners and no politics that are intrinsically motivated and have the freedom to operate. We launched the project one year ago in October 2021, and it is amazing what we have achieved in only 12 months! This is more than a compliment for everybody involved and all HeiQ people working in the matrix organization supporting us along the journey.
What is your view on sustainability in the textile industry, and what can be done to reduce its impact on a global scale?
Fashion and textiles are fascinating industries. Look at the pictures from fashion shows. Pure aesthetic and emotion. On the other hand, this business can be very destructive at the same time. It consumes a lot of resources – including humans – internally and externally and expects endless material supplies from Mother Earth. The industry itself has begun to transform. As this is not enough, we need to ask ourselves: What is this industry at the end? We are all part of it. And we can all make a difference every day. Buy less, wear more, and choose wisely is only one good mantra. Before consuming, always ask yourself: Is this really needed now? The first and easiest sustainable approach is to wear your existing wardrobe a couple of times more and start being creative by styling it differently.
What is your vision in your professional life?
Being involved in the HeiQ AeoniQ™ project from day 1 my vision is to see this project completely rolled out and in full bloom latest in 2025. HeiQ AeoniQ™ should be part of the fabric fair offers in pure versions and in blends, knitted and woven. Looking at it from a designer and fabric development point of view I can emphasize that this is a wonderful material that can serve the needs of many product groups. You cannot get more versatile than this. And hopefully, brands team up here to show and recognize the potential the material has.
Being in sync with nature by hiking and walking in the Swiss or South Tyrolian mountains is my elixir that keeps me healthy and balanced. Also, yoga, meeting with friends, cooking, and reading are parts of my preferred weekends and evenings. I wish I could have another three hours per day just for this. And sometimes I enjoy sitting in a coffee shop, doing nothing, and studying people. 
What are you dreaming of?
I am not chasing my dreams. I try to live my best life every day. With all ups and downs in between. What is meant to be part of my journey will find me.